Last week, to celebrate my birthday, I wanted something truly special. Since my apartment couldn't accommodate all my friends, I set out to find the perfect venue for an unforgettable evening of jamming and singing. And guess what? I found the perfect bar for a memorable night.
Without further ado, I'm going to reveal to you the most convenient way to book a bar in Paris or other French cities for your birthday.
A Simplified Process to Reserve a Bar
Before discovering this site, I called recommended bars one by one. Unsuccessful and not practical. That's when I discovered a platform called Privateaser.
Booking a bar with a cellar in Paris on Privateaser was child's play. Here's the step-by-step guide:
1 – Choose your main criteria such as the date, whether you just want to reserve a few tables or a "Closed Space," the neighbourhood, the atmosphere (lively or calm/intimate), drink prices, and let the magic happen.
2 – You can also add other criteria such as whether in the bars, you can dance, play your own music, have games (foosball, ping-pong, etc.), or available projection equipment, etc.
The site then offers you a personalized selection of venues that match your expectations.
3 – Check the photos, booking conditions, and reviews.
4 – Select your ideal bar and send your reservation request for the bar/restaurant.
What really impressed me was the speed of responses to my reservation request. In less than 24 hours, the bar manager had responded to my request and questions, and the process of booking a private space for my birthday was complete.
A Wide Selection of Bars Available in Paris and Other Cities in France to Celebrate Your Birthday
Whether you're looking for an intimate atmosphere in a wine bar in Montmartre, a stunning view from a rooftop in Saint-Germain-des-Prés, or an ultra-chic evening in a select club in Le Marais, Paris will meet all your expectations. Unusual bars, hidden speakeasies, entertaining games, amazing cocktails, everything is there to make your evening unique.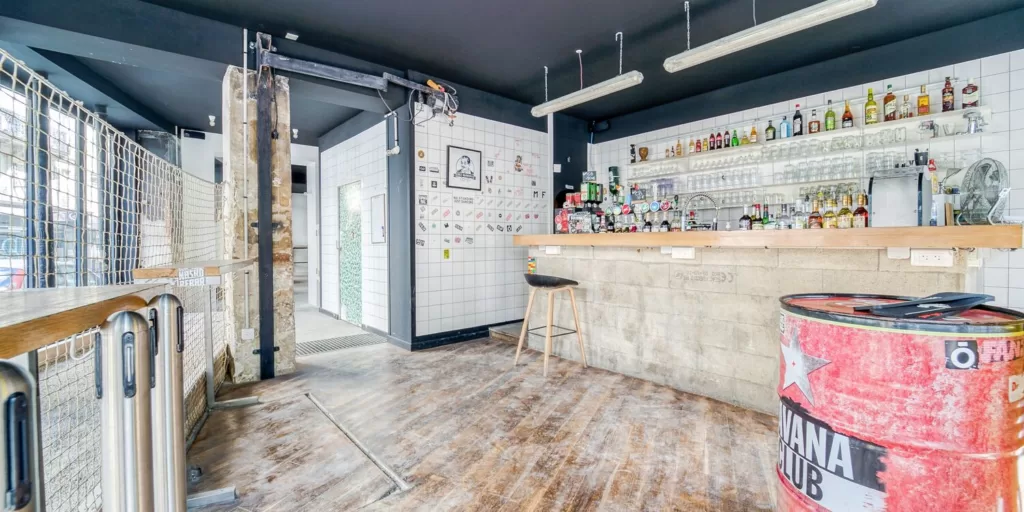 Avoid Pitfalls: Why Not the "Reservateur" Site?
My Bad Experiences with Reservateur
Unfortunately, not all reservation platforms are as reliable. I had a disappointing experience with "Reservateur."
The site does not directly show available bars for the requested date; you have to go through their customer service. They then promised to send me a list of available bars with a cellar, a promise that was not kept. The person I spoke to on the phone was uncooperative, even rude. So, I decided not to use their site.
Privatize a Bar in Paris for Free for Your Birthday: Valuable Tips
One of the great surprises was the possibility of privatizing a bar in Paris for free, thanks to Privateaser. The bar I booked did not require a minimum consumption per guest or a deposit. The manager only asked for a minimum number of guests to reserve the cellar.
Simply look in the Booking Conditions for bars where it says "Privatization fee: free."
Some establishments impose a minimum consumption per guest and ask for a security deposit to guarantee this consumption. If you are certain about the consumption, this has proven to be an economical option without sacrificing the quality of the evening. You do not pay for the space reservation in the end. Check the amount of the required consumption carefully to avoid the risk of leaving without your security deposit.
In exchange, you will have benefits such as extended happy hour times or the entire night.
However, some bars charge reservation fees. If you are looking for a free bar privatization, do not send requests to bars that say "On estimate."
Check the Privatization Conditions Carefully
However, privatizing for free does not mean "without conditions." Each place has its own rules, so it is essential to read them carefully to avoid any surprises.
For example, apart from the minimum consumption, not all bars allow you to bring food or your birthday cake.
You are also responsible for the privatized space as well as the actions of your guests.
Read Reviews Before Booking the Bar to Avoid Unpleasant Surprises
Nothing is worse than a birthday party gone wrong. I highly recommend reading the reviews of people who have reserved, as well as the reviews on Google Maps, to make sure you will have a good time without headaches with a "mean bouncer" or a rude bartender with your guests.
Additional Tips for a Perfect Birthday Celebration
Ensure the size of the private space is suitable: Make a list of confirmed guests before committing to a minimum consumption with the reserved bar. Subtract at least 5 people from this amount (unexpected "I can't make it" situations). Ensure these people bring guests, so you don't end up in a space too small for the number of guests.

Inform guests about the bar's conditions at the beginning of the evening or beforehand to avoid stressing them on the day.

If it's a basement or reserved space, bring a speaker and a playlist of offline music in case the internet is not working.

Bring some decorations to make the place more personalized, a cake, and make this evening truly yours!
Conclusion: Make Your Birthday Celebration Unforgettable
In conclusion, privatizing a bar for your birthday in Paris can be an amazing experience if done right. Follow the simplified process, choose the right platform like Privateaser, and be aware of the conditions and reviews. Whether you prefer an intimate wine bar or a trendy club, Paris offers a diverse selection for a perfect celebration. Take advantage of the tips provided to avoid pitfalls, and ensure your birthday becomes a cherished memory for you and your guests.
Have you ever celebrated your birthday in a privatized bar in Paris? Share your experiences and tips in the comments below!