Climbing has undoubtedly become a very popular sport in Paris. Every year several climbing gyms see the light of day.
I tested the latest new climbing gym in Paris. Well, it's not exactly in Paris, it's Climb up Aubervilliers, 10 minutes from Paris 19eme.
The biggest climbing gym in Paris?
My first surprise was probably the size of this indoor climbing gym. Indeed, according to Climb Up, it is the biggest climbing gym not only in the Paris region, but in Europe: 5000m² dedicated to climbing with more than 200 rope lines and 600 routes to climb.
A brand new space with a beautiful structure where I noticed :
several spaces with bouldering and route walls
a play area with climbing walls for children
a training area
and a sauna – which I will probably try next time.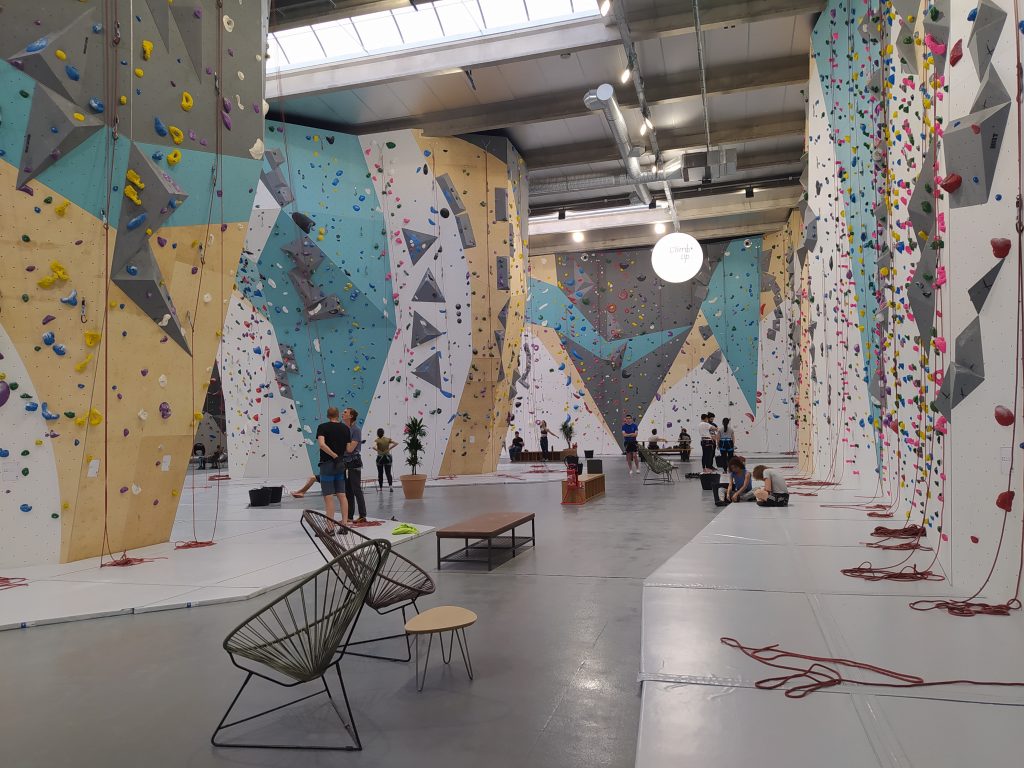 Negative and positive aspects of the new Climb up Aubervilliers gym
The best thing about this new Parisian climbing gym is the number of routes available to climb: an infinite number of options for mine and my partner's levels.
However, and maybe due to the number of routes they had to open in a short period of time, the routes could be better worked out, with more finesse and details.
Another negative point, for us personally, is that a large part if not the majority of the non-beginner routes – 5c or more – are downhill. If you are a fan of this type of challenge, this is the place for you.
The last downside is that the price of a single entry ticket for these parisian climbing gym is quite high: 17 euros.
La Parisienne Rose's tips for paying less:
Go and discover this new climbing gym before June 5th, and take advantage of a 5 euros price, equipment included.
Go climbing during Happy Hour and pay 12 euros for entry – Monday to Friday before 4pm, or after 9.30pm and at weekends after 6.30pm)
Climb Up Aubervilliers
Access: 1 quai Lucien Lefranc
93300 AUBERVILLIERS
Tel: 01 77 37 37 87
You have never climbed before but would like to try it:
Rock climbing initiation lessons are available for adults and children in this and other climbing gyms in and around Paris