If you're looking for a unique sports experience in Paris, Punch Boxing might be the answer to your expectations. It's not just a gym or a boxing class; it's a unique place to let off steam to music while toning your body.
Recently, I had the opportunity to try out Punch Boxing Studio Louvre, and I'll share my review with you:
Punch Boxing Review in summary:
Clean gym and locker rooms, high-quality hairdryers, and care products
Stress relief
Intensive workouts
Motivating music and coach
Boxing classes can be too fast, and the gym can get crowded
Focused on fitness, not traditional boxing
The Punch Boxing Concept
Punch Boxing is a concept that combines the intensity of boxing with the benefits of muscle strengthening, which they call a boot camp. This concept was imported from the United States by Jules Bouscatel, the founder and the first to develop the concept in the heart of the French capital. Today, in addition to this space at the Louvre, there is also a Punch Boxing studio on the Champs Élysées and a third one in Neuilly.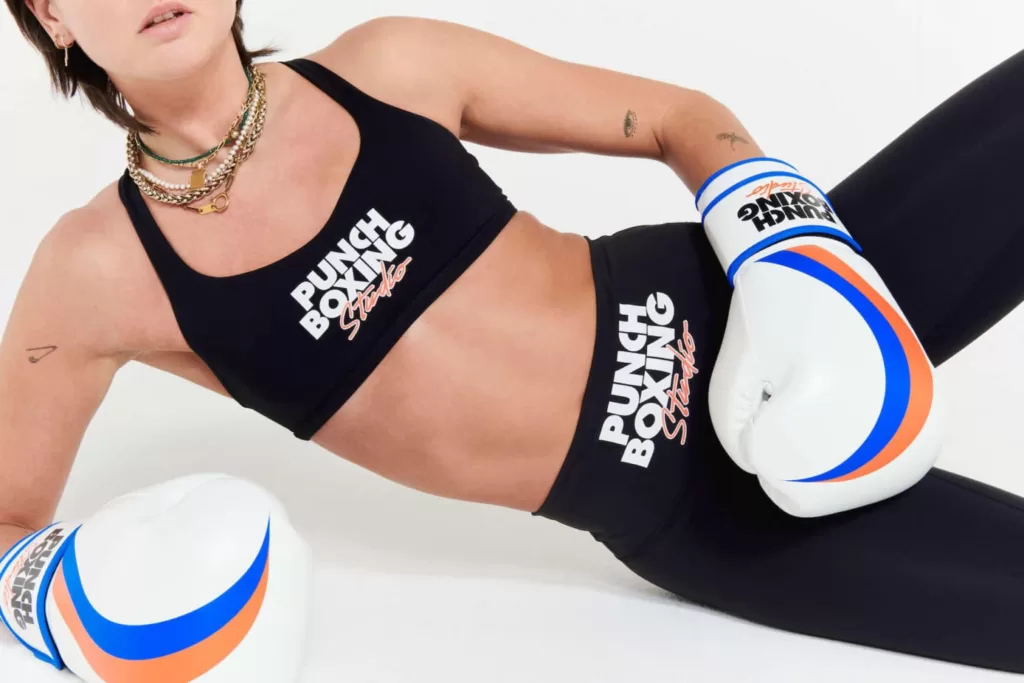 The sports session lasts 50 minutes and takes place in a semi-dark room, guided by a coach, with music playing loudly.
The gym is divided into two parts, one dedicated to cardio and muscle strengthening activities (push-ups, abs, etc.), and the other for boxing exercises, with water-filled punching bags.
10 rounds: During the training session, the coach gives exercise sequences to each side, and when the sequence is over, the participants switch areas.
This new fitness world has conquered Paris, and Punch Boxing Studio Louvre is a living example of it.
The Cardio Boxing Studio Environment
When I entered the studio, the first thing that struck me was how clean it was. No sweaty smell, clean locker rooms with high-quality hairdryers and care products. This is unusual for Paris. We appreciate it!
Another thing that sets Punch Boxing apart is the atmosphere: loud music, in semi-darkness, giving a nightclub effect, while boxing in rhythm. The session is intense and goes by very quickly.
The fact that the room is not very large can be seen as an advantage because it prevents you from getting lost and encourages everyone to give their all. It also makes the coach's job easier because they can easily see if the participants are performing the movements correctly.
Music and Coach
Music is an integral part of the class; it's motivating and supports the rhythm of the exercise. The coach is very motivating, ensuring you keep moving and maintaining the correct posture.
Boxing and Boot Camp
Punch Boxing is more about fitness and well-being than traditional boxing. The boxing part is quite fast and is a fun way to work on your cardio. The boot camp exercises are for muscle strengthening and are also quite intense.
The only negative point I found is that sometimes the class can get crowded. Because of the layout, it might feel like you don't have enough space during the boxing rounds. But this doesn't detract from the positive aspects of the class.
In Conclusion
If you're looking for an intense workout that combines cardio, muscle strengthening, and boxing, Punch Boxing Studio Paris is an excellent choice. It's a unique experience that provides a change from traditional fitness classes. Just be prepared for an intense 50-minute workout, and you'll leave the studio feeling refreshed and full of energy.
With its clean facilities, motivating atmosphere, and dedicated coaches, Punch Boxing Studio Paris offers an exciting fitness option that will appeal to many.
Whether you're a fitness enthusiast or new to working out, give Punch Boxing a try, and you might discover a new favorite way to keep fit in the heart of Paris.