I am delighted to share with you my recent experience at YUJ Yoga Paris 8. If you are looking for yoga classes in Paris 8, then this article is for you!
The impeccable cleanliness of the studio and changing rooms at YUJ Yoga Paris 8
To begin with, I was pleasantly surprised by the cleanliness of the studio at YUJ Yoga Paris 8. The changing rooms are very clean and well maintained, with all the hygiene products, hairdryers and towels available. In addition, the lockers for storing things are very convenient and secure, which allowed me to fully enjoy my yoga session.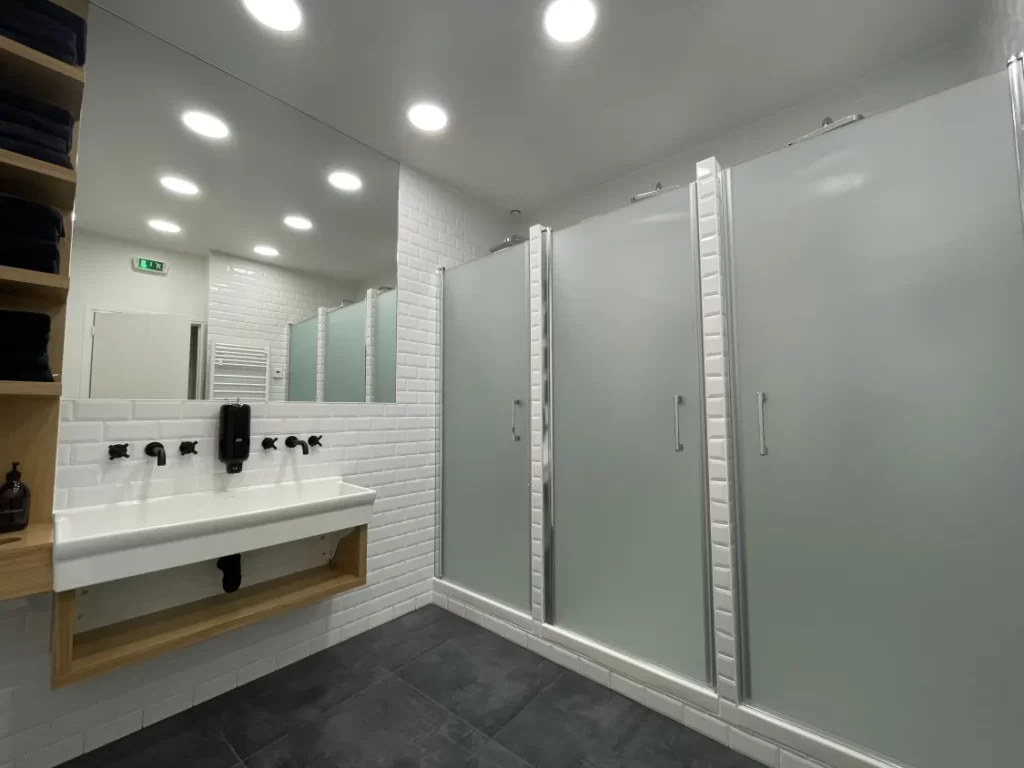 YUJ Flowmix level two: an immersive experience in semi-darkness
The Flowmix level two class I took at YUJ Yoga Paris 8 was exceptional! We were guided by an experienced and passionate teacher, to the sound of music, in a semi-darkness that allowed us to let go completely. The class was adapted to my level and I was able to challenge myself and get into that flow feeling. It was a very enriching experience.
Warning to classical yoga lovers: Yuj's flow yoga is very different from classical yoga and is closer to the 'Yoga Fitness' trend. Unlike studios like Jivamukti yoga Paris, there is no mystical or spiritual side to this yoga class, but rather postures that follow one after the other quickly.
Negatives to consider before booking a class at YUJ Yoga Paris 8
However, there are a few negatives that I should mention at YUJ Yoga Paris 8. First of all, the infrared lamp used for hot yoga is not really my cup of tea. It was very hot in the room, which bothered me a bit. Also, the darkness made it difficult to watch or correct the postures by the teacher.
Tightly packed mats, THE downside to the practice space at YUJ Yoga Paris: Finally, the mats were very tightly packed together, with about 25 people in a small room. There wasn't enough room to do the postures sometimes, which was a bit frustrating.
What to expect when you go to YUJ Yoga Paris 8? Here are some more reviews of Yuj Yoga on google:
More testimonials from clients at YUJ Yoga Paris 8: what do they say about their experiences?
Many clients expressed satisfaction with the quality of the classes and teachers. They also noted the peaceful and relaxing atmosphere of the studio, as well as the variety of classes offered. In addition, many clients emphasized the importance of the community at YUJ Yoga Paris 8, describing a warm and welcoming atmosphere.
YUJ Yoga Paris 8: a yoga studio worth visiting?
In summary, my experience at YUJ Yoga Paris 8 was positive overall. If you are looking for the best yoga studios in Paris 8, ,to do hot yoga, or exercise/sport, this is the place for you. I recommend YUJ Yoga Paris 8. You can expect a clean and welcoming environment and high quality yoga classes.
However, if you're not a fan of hot yoga or darkness, you might be a little disappointed.
So it all depends on how you view yoga. But if you prefer classical yoga or yoga for relaxation, better look for another studio 🙂
I hope this review was helpful to you in making your decision about YUJ Yoga Paris 8. If you have any questions or comments, please feel free to share them in the comments below. Thanks for reading and see you soon!
Practical Information YUJ Yoga Paris
Address:
9 Rue Magellan · 75008 Paris
Phone:
01 89 33 92 01
Price Yuj Yoga Studio with Classpass:
From 11 to 14 credits
1 yoga class of 60min
Prices Yuj Yoga Studio:
OFFRE DE BIENVENUE
55€
18€/class – 3 classes of 60min
valid for 1 month, for all new customers
1 CLASS
32€
1 class 60mn
valid for month
PACK 5 CLASSES
145€
29€/class – 5 classes of 60min
valid for 3 months